At Marist College Kogarah, we continually upgrade our learning spaces and outdoor recreation areas into modern, open environments that promote creativity, collaboration and wellbeing. Students enjoy the use of technology and contemporary learning spaces to aid in their learning and social development.
New Learning Centre
Large contemporary learning spaces allow students to engage in multimodal learning environments catering for a diverse range of learners.
Science Labs
Open and modern STEM and science classrooms enable students to participate in practical experiences to promote curiosity, awe and wonder.
Garden
Outdoor multi-purpose learning and recreational spaces provide students with the opportunity of peacefully engagement in academic pursuits or to socialise in a relaxed, welcoming atmosphere.
Music Studio
Contemporary spaces for music and the arts encourage and inspire students to pursue their interest and passion in these fields.
Technologies
Technology workshops provide students with innovative, practical applications of industry standard equipment and new and emerging technology.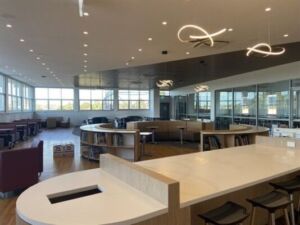 Library
The College Library has recently undergone a major refurbishment. Designed as a flexible learning environment to nurture a passion for knowledge acquired through collaboration and independent learning.